Ball Mill Overview
Most people are familiar with the type of vertically aligned milling machines with revolving blades. This type of traditional model is often used by manufacturers to re-form objects. A ball mill is another type of milling machine that uses balls to crush material. The ball mill is made up of a hollow section that spins down either a horizontal or a vertical axis. The section is packed with balls. The materials to be crushed are added and the balls move around inside the mill, colliding with the materials.
Grinding balls are used to grind materials into fine powders. It is used to mix materials such as chemicals, paints, ceramics, and ores. The grinding balls made from different materials (stainless steel and ceramics) may be used for the same application.
Critical Speed and a Grinding Ball
For the ball mill to work properly, it must reach critical speed. This is the speed at which the grinding balls start to spin along the ball mills' interior walls. If the ball mill does not reach critical speed, the grinding balls will stay at the bottom. They won't be able to grind the material properly.
Uses for the Grinding Ball
Grinding balls are used to grind or blend materials. A grinding ball works on the principle of impact and attrition. Earlier balls were made from steel, ceramic or rubber. These days they are much more scientific and Magotteaux manufactures them in alloys which are especially suited to the tasks they have to perform creating less wear and far greater efficiency in production. We will give you advice on which balls are best for your specific needs.
Choosing the Grinding Ball
When choosing a grinding ball and other grinding media, it is best to use a "Less is more" approach. The best course of action is to choose the grinding ball (or grinding rod, for that matter) with the smallest diameter that will break down the material being ground effectively.
Choose the size of the grinding balls with caution. If the selected grinding balls are too small, they may flow out of the mill as part of the waste material. A grate discharge mill will reduce this risk.
For the primary grinding stage, select larger-sized grinding balls. In many instances, the 4"-2" sizes are the best options. Some applications will require 5" grinding balls initially.
In the secondary stage when finer grinding is performed, use a smaller (approximate 3") grinding ball initially and move down in size. For very fine grinding 1/5" or smaller grinding balls will be used.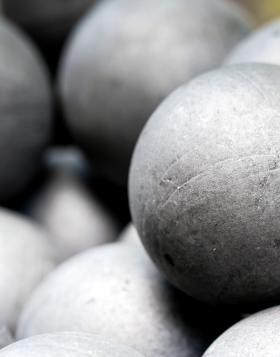 Density is another important consideration. A grinding ball should be large enough that there is no danger of any of them floating on top of the material being ground.
Grinding balls are made for durability. You will want to ensure that the grinding balls you are looking at aren't so solid that they will wear the tumbler down more quickly than normal.
Some grinding applications may have specific requirements. If keeping contamination down is a consideration, the grinding balls and media are chosen based on their level of ease of separation from the material. Ceramic grinding balls may be selected when working with flammable materials to avoid dust sparking and acting as an ignition source.
Ask Magotteaux About your Grinding Ball Needs
Magotteaux has an experienced team that is ready to answer all your questions about grinding balls. Don't hesitate; contact us without delay to discover how we can solve your issues today.