The Uses of a VSI Crusher
A VSI crusher, or to give it its full name, a vertical shaft impact crusher, can be used for most crushing applications. The principal uses will be in quarries and gravel pits to produce products for roads and asphalt, ballast, manufactured sand for concrete and aggregates for use in the construction industry. But VSIs are also used for the recycling of building material, namely concrete and asphalt and the processing of steel slag. Increasingly in a conservation-conscious world, industries must learn to recycle used materials instead of dumping them. And this in itself can be a profitable industry if they are processed properly with the right machinery.
VSIs are commonly used to build bridges, buildings, and tunnels. Hydroelectricity power station sites also use them. VSI crushers are a crucial part of making industrial sand, which is then used to manufacture products such as abrasives, ceramics, glass, paint, sealants, and more.
With this type of crusher, the raw material starts its journey from the feed hopper. It enters the rotor through a central entrance. At this point, the raw material moves through a spinning pump. As the name implies, the VSI crusher spins on a vertical axis. Once inside the crusher, the aggregate feed is hurled against several anvils along with other aggregate pieces. The aggregate feed may be moving at speeds of up to 60-75 meters per second at this point. Often, the material becomes crushed when it hits the interior of the VSI crusher at these high speeds.
VSI Crusher for Recycling Materials
VSI crushers can also be used as pre crushers in from of a grinding mill in the cement industry.
VSI crushers crush the stones meeting the appropriate granularity standard into sand. During the construction waste recycling process, the material is cleaned with water to remove contaminants such as wood, cloth fibres, etc.
Benefits of Using a VSI Crusher
Why choose a VSI crusher, as opposed to an impact crusher? The VSI gives you several benefits:
Versatile and Efficient: The VSI crushes hard and brittle materials with ease. It is the right choice for handling rock, cement clinker, grinding material, concrete aggregate, and refractory material. As a crusher for building and road-making, the VSI is highly suitable.
Simple to Run: The VSI is a solid piece of machinery. It is easy to put in place and keep up.
Energy-efficient: It gives you a large volume of output while keeping its energy consumption levels down.
Durable: During operation, rocks can fall into the bottom of the VSI. It forms a protective layer that increases the machine's durability. The crusher's main shaft uses calibrated rolling bearings for increased stability and reliability. This feature may also reduce your maintenance expenses.
Choosing the Right VSI Crusher
Magotteaux carries several models of VSI crushers. Which one is right for your company? You choose a VSI crusher based on the following factors:
Capacity required
Size of the feed material to be crushed
Output needed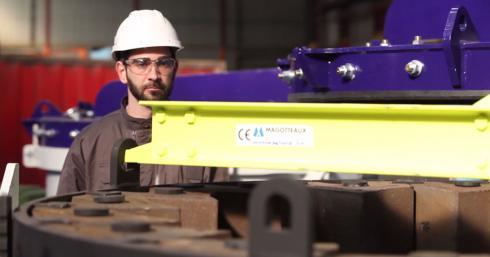 Along with choosing the best model, you'll want to ensure that you are dealing with the right company to supply your VSI. Consider the following before finalizing any understanding:
What kind of pre-sale service does the dealer provide? Can you get the advice you can trust?
Can you also get after-sale service if you need it?
Magotteaux Produces Quality VSI Crushers
When you are in the market for a quality VSI crusher, count on Magotteaux. With several types available, our team can recommend the right one to fit your firm's needs. No matter what kind of material you are working with, we will make sure you have the right solution.
Contact us straight away to start a discussion about your company and your present needs with Magotteaux.
Why Do Mining Companies Turn to Magotteaux For Our VSI Crusher Expertise?
Among other sectors, mining industry companies frequently choose Magotteaux for our VSI crusher expertise due to our deep understanding of the industry's needs and our unwavering commitment to excellence. We have a proven track record of providing high-quality VSI crushers and wear parts that optimize performance and extend service life in this particular sector. Our dedicated team of engineers and technicians leverages their extensive knowledge and experience to develop innovative solutions tailored to each customer's unique requirements. Furthermore, our global presence and a strong network of service centers ensure that we provide assistance to mining companies everywhere, helping to reduce downtime while maximizing productivity. At Magotteaux, mining companies can expect a seamless experience, from initial consultation to after-sales support. We are dedicated to helping our clients achieve their operational goals while minimizing the operational costs associated with mining and enhancing overall efficiency.
What Makes Our VSI Crusher R&D so Useful to Our Customers?
Here at Magotteaux, our relentless focus on research and development (R&D) enables us to provide customers with cutting-edge VSI crusher technology. Our R&D efforts are driven by our commitment to addressing industry challenges, improving wear life, and enhancing product performance. Our R&D team works closely with customers to identify their needs and develop tailored solutions that maximize efficiency while bearing down on costs. We invest in continuous improvement, utilizing advanced materials and patented designs to create VSI crushers and wear parts that offer superior longevity, not to mention resistance to everyday wear and tear. By choosing Magotteaux's VSI crushers, customers benefit from a range of technological advancements. In turn, this will typically lead to lower maintenance costs and, therefore higher profitability. Our R&D initiatives ensure that our products remain at the forefront of the industry, delivering tangible benefits to our clients in every industrial sector.
How Does Our VSI Crusher Technology Support Sustainability?
Magotteaux's VSI crusher technology aligns with sustainability goals in a world where many industries are increasingly committed to reducing their environmental impacts. Our VSI crushers are designed to minimize energy consumption, for example. This allows our cutomers to make a contribution in reducing their greenhouse gas emissions and lowering their carbon footprints when utilizing our products. We also focus on reducing waste production by extending wear part life and minimizing the need for frequent replacements. Our advanced materials and patented designs contribute to improved wear resistance, leading to a decrease in raw material consumption and waste generation. Magotteaux is dedicated to promoting sustainable practices and resource efficiency in the mining industry. By choosing our VSI crushers, customers are not only investing in cutting-edge technology but also contributing to a more sustainable future.
Ask Us For Technical Details About Our VSI Crusher Parts Today
For more information about our VSI crusher parts and how they can enhance your operations, please contact us. Our technical experts are readily available to provide you with detailed specifications, discuss your unique requirements, and recommend the most suitable solutions. At Magotteaux, we are committed to ensuring that our customers receive the highest level of service and support. Choose us and experience the Magotteaux difference in VSI crusher technology.