VSI Crusher Parts
The VSI is a very versatile crusher. It can be used to make coarse and medium aggregates for asphalt and concrete applications, as well as fine sand.
The feed size a VSI can work with is limited by the size of the rotor opening. In most instances, material measuring five inches or less may be used. The largest VSIs can work with feed measuring a maximum of 12 inches.
The VSI uses several parts that are subjected to a high level of wear over time. The rotors will be configured with between three and six shoes, depending on its diameter. The larger the rotor's diameter, the more shoes that might be used.
The material being crushed is fed into the centre of the open or closed rotor. The rotor spins at high speed to throw the feed forcefully into the crushing chamber. When the material strikes the anvil ring assembly, the material breaks into pieces. The pieces drop through the gap between the anvil and the rotor. These pieces end up on a conveyor belt positioned under the gap.
VSI crusher parts are optimised for greater crusher productivity and to control costs. Magotteaux makes VSI crucher and other parts which can be used in a variety of VSI makes and models as well as the Mag´Impact VSI crusher. Available parts include anvils, impellers and feed discs. These are available in high chrome white iron or a variety of alloys: Metal Matrix Composite (MMC) solutions: Magotteaux Cement / Aggregates Blow Bars One and Magotteaux Mining / Cement / Aggregates / Recycling Hammers +. All provide reduced costs of wear, greater productivity, reduced cost of maintenance and better safety.
A VSI's rotor and anvil can be configured in several ways to work with different applications. The anvil ring, rock shelf, rotor table, and rotor assemblies can be changed out in many instances. This feature gives you the maximum level of flexibility from your VSI crusher.
Advantages of Magotteaux VSI Crusher Parts
The chief advantage of choosing Magotteaux VSI crusher parts is the reduced wear costs.
For example, Magotteaux Cement / Aggregates Blow Bars One last much longer than similar products available on the market. Your company would be looking at a lower replacement rate, which would work out to long-term cost savings.
Another advantage of choosing VSI crusher parts from Magotteaux is that you get a higher level of crusher productivity. The striking edge of the part is retained longer and this increases productivity.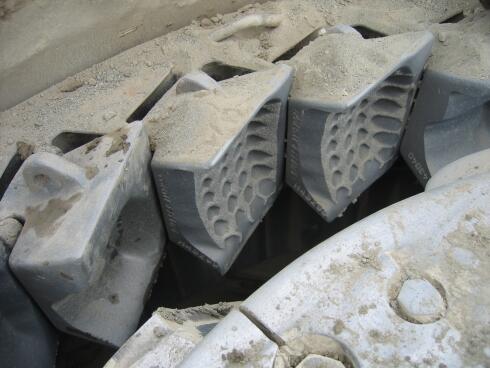 Maintenance costs are also reduced with VSI crusher parts. Since these parts last longer than other brands, they require less downtime for changing. The maintenance crew can spend their valuable time elsewhere performing other tasks. Since Magotteaux Cement / Aggregates Blow Bars One' has an extended wear life, workers will be required to physically handle heavy parts far less often. This feature improves safety in the workplace, greatly reducing the risk of injuries.
Support for VSI Crusher Parts
Magotteaux wants you to feel confident about purchasing VSI crusher parts from us. Your firm is more than just a sale to us. We don't simply have your representative agree to buy crusher parts from us and then disappear. At Magotteaux, we value our relationships with customers and want to ensure that you are satisfied with your purchase.
Are you looking for quality parts and support for your VSI crusher? Contact us now. We understand that downtime means lost productivity for your company.