Selective concrete recycling
Our customer Heidelberg Materials was looking for a separation concept with low crushing ratio.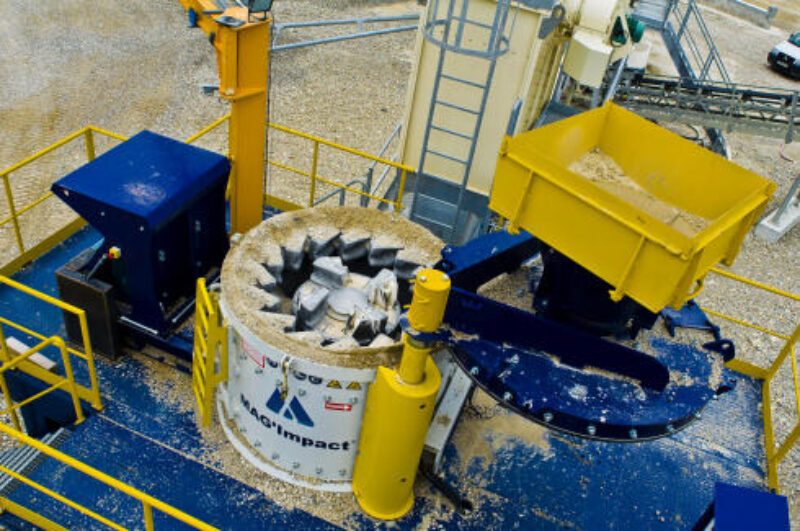 1
Background
Early 2019, Heidelberg Materials was looking for an innovative solution for concrete recycling to recover its original components i.e. aggregate, sand and cement paste.
Most of the existing solutions are in fact crushing the concrete down to 0/22 mm fractions with high reduction ratio. The customer was looking for a separation concept with low crushing ratio to recover the aggregates and sand from concrete as clean as possible from cement paste. The ReConcrete-360° project started.
2
Solution
On 1st step, a 22/80 mm concrete is fed to a Mag'Impact 2400 ROA (Rock On Anvil) to recover mainly the aggregates. The 2nd step, called cleaning stage, consists into feeding the finer fraction from the 1st step to further clean the recycled sand.
3
Results
The 2-step process enables the production of quite not crushed high quality pebble. The sand 0/4 still containing remaining cement on its surface is suitable for the production of concrete replacing natural sand. The finer fraction, rich in hydrate cement paste can be used directly in the production of new clinker or cement, where it helps to reduce the cement industry's CO2 footprint. In 2022, the Heidelberg Materials project "ReConcrete-360°", which includes the use of the recycled cement paste as a CO2 sequestration substrate, was awarded with German Innovation Award for Climate & Environment 2022.